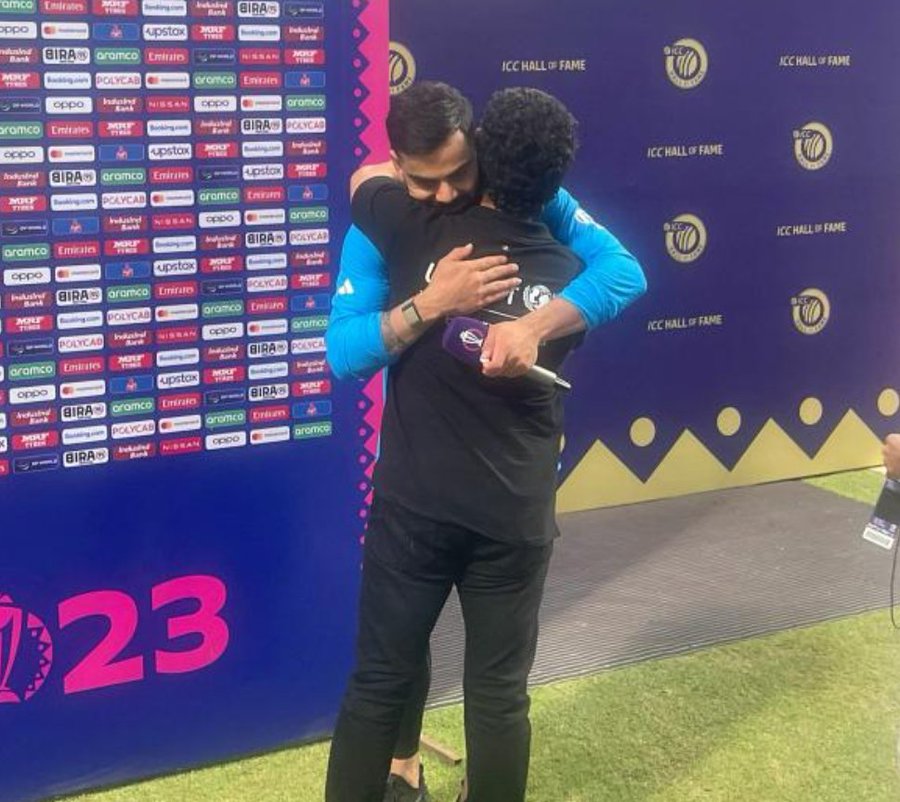 In a moment that epitomized camaraderie and sportsmanship, legendary Indian cricketer Sachin Tendulkar warmly embraced Virat Kohli after Kohli achieved the remarkable milestone of scoring his 50th ODI century. The heartwarming scene unfolded at the iconic Wankhede Stadium in Mumbai, India, as India faced New Zealand in the Cricket World Cup semifinal match.
Kohli's achievement marked a significant moment in Indian cricket history, and Tendulkar, who previously held the record for most ODI centuries (49), was among the first to applaud Kohli's incredible feat. As Kohli walked off the field to a thunderous ovation, Tendulkar stood waiting to greet him with a warm hug.
The embrace between the two cricketing legends was a touching display of respect and admiration. Tendulkar, who has always been a mentor to Kohli, expressed his pride in Kohli's achievement, while Kohli, in turn, acknowledged Tendulkar's legacy and the inspiration he has drawn from the legendary cricketer.
The heartwarming moment between Tendulkar and Kohli resonated with cricket fans across the globe, capturing the essence of the sport and the unwavering bond that exists between two cricketing icons. It was a testament to the enduring legacy of Sachin Tendulkar and the rise of Virat Kohli as a cricketing legend in his own right.