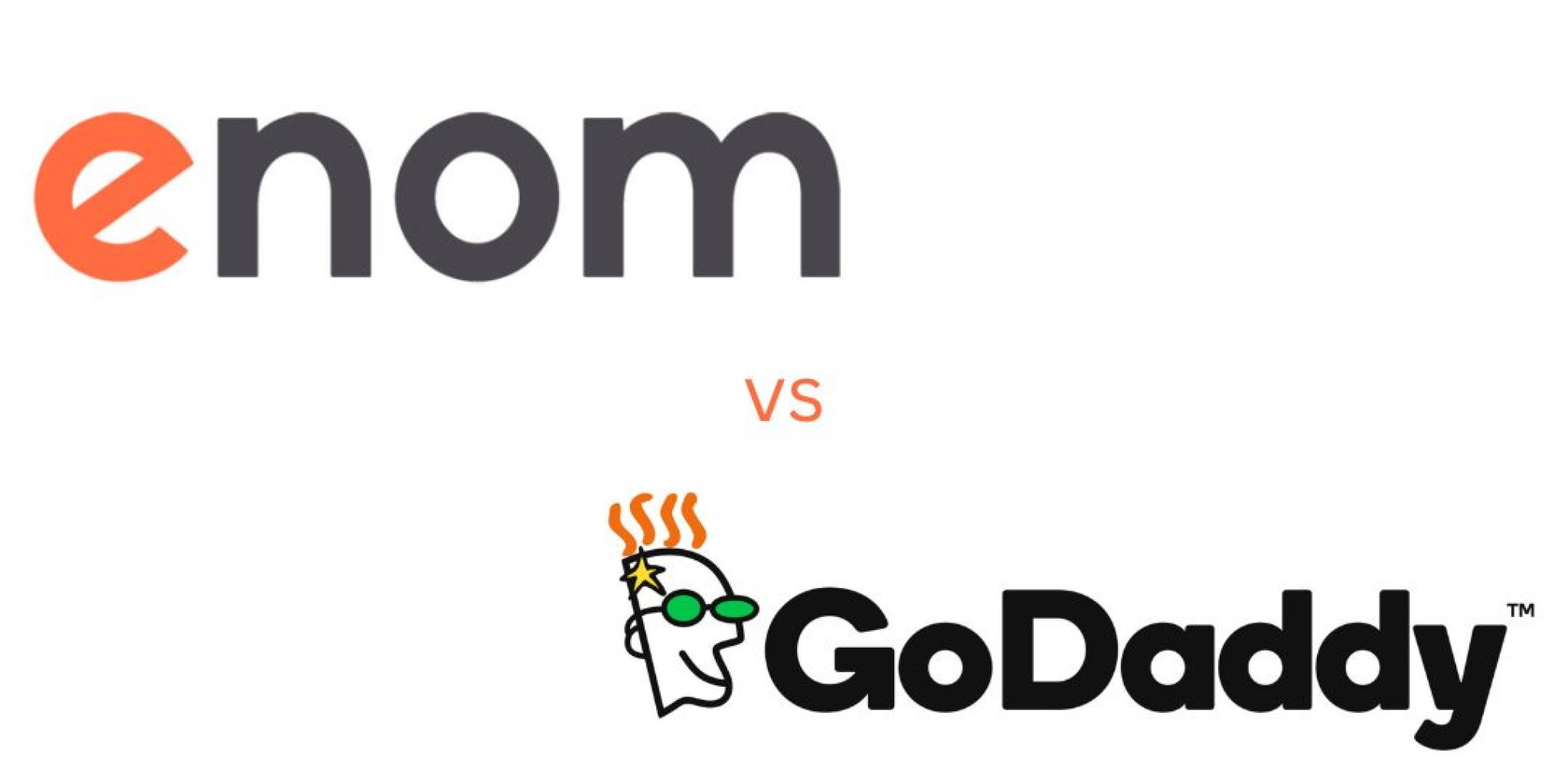 enom vs GoDaddy:
enom is a domain name registrar. They provide domain names and web hosting services to their customers.
Hostmonster vs GoDaddy Review 2023. Which one is better?
Arvixe vs GoDaddy Review 2023. Which one is better?
Network Solutions vs GoDaddy Review 2023. Which one is better?
InMotion vs GoDaddy Review 2023. Which one is better?
GoDaddy is a domain name registrar and web hosting company. They offer domain registration, website builder, email services, security products, and other web services.
Winner Snapshot – Here is a summary table to compare enom vs GoDaddy
| | | |
| --- | --- | --- |
| Compared Options | enom | GoDaddy |
| Pricing | 3 plans | 4 hosting bundles, 22 plans |
| Starting price | $6/month | $5.99/month |
| Free domain | No | Yes |
| Coupons | No | No |
| Shared hosting plans | 3 plans from $6 to $20 | 6 plans from $5.99 to $39.99 |
| VPS | No | 4 plans from $4.99 to $69.99 |
| Dedicated server | No | 8 plans from $129.99 to $399.99 |
| Cloud hosting support | No | No |
| Website builder | Yes | 1 plan from $19.99 to $19.99 |
| Data centers | 1/6 | 3/6 |
| Support services | 3/6 | 6/6 |
| CMS support | 4/6 | 4/6 |
| OS support | 2/2 | 2/2 |
| Language support | Unknown | 1/8 |
| Database support | 1/3 | 1/3 |
Winner: GoDaddy
Quick Comparison: enom and GoDaddy
| | | |
| --- | --- | --- |
| | enom | GoDaddy |
| Features | Domain name registration Email accounts Shared hosting Up to 100 GB storage 200 – 1 TB bandwidth Plesk Control Panel Linux/DNS hosting Automatic scheduled backups | Unlimited bandwidth & storageWebsite builder and editorOnline marketing suiteTemplates, designs, and font selectionsMobile-friendly theme with stock imagesE-mail marketing supportDrop-down menu for easy navigationCustom website design supportCustom themesBackup and restore functions |
| Support | Email Live chat Business hours customer support | 24/7 Live chat supportPhone supportHow-to blogsCommunity Forums |
| Performance | Average uptime of 99.95% | Average uptime rate of 99.99% |
| Ease of use | Fast domain registration and improved interface | User-friendly site builder |
| Security | Paid SSL security | SSL security |
| Server location | North America (no information on servers in other locations) | Arizona (three (3) servers in Phoenix, Scottsdale, and Mesa, AZ); other servers located in Los Angeles, Virginia, and Chicago International servers in Amsterdam and Singapore |
| Free migration | Yes | Yes |
About enom and GoDaddy
| | |
| --- | --- |
| enom | enom is a popular Web hosting provider and domain name registrar. The company has been in operation since 1997, making it one of the industry's oldest domain registrars and Web host. enom offers several services to its users and currently manages 15+ million domains. |
| GoDaddy | GoDaddy is a popular Web host with a customer base spanning all continents worldwide. The company offers shared and dedicated Web hosting plans to its 20+ million users. |
enom vs GoDaddy – A Side-by-Side Comparison
1. Hosting Features: enom vs GoDaddy
| | | |
| --- | --- | --- |
| Hosting Feature | enom | GoDaddy |
| Free daily backups and restore | Yes | No |
| High-performance SSD storage | No | Yes |
| Free WordPress installation | Yes | No |
| Free site migration | Yes | Yes |
| Free website builder | No | Yes |
| Free domain-associated email | No | Yes |
| Email accounts | Yes (150) | Yes (500+) |
| Disk space and bandwidth | 50 – 200 GB | Unmetered bandwidth |
| Built-in caching system | Yes | Yes |
| Free CDN (content delivery network) | No | No |
| Webspace limit | Unknown | 25 GB (Economy plan), 60 GB (Deluxe plan), 75 GB (Unlimited plan), and 100 GB (Maximum plan) |
| Free SSL | No | No (3 plans from $69.99 to $344.99) |
| Sub and parked domains | Yes | Up to 500 subdomains for every domain name |
| Option to add multiple users | No | Yes |
| Free custom domain name | Yes | Yes, for an annual web hosting plans |
| Git and SSH access | Yes | Yes |
Main enom Features
enom offers its users several features required to host a standard website. Some of enom's most popular features include:
Domain name registration
SSL security
Linux OS Web hosting
Auto backups
Domain name registration
enom is one of the world's best when it comes to domain registration. The company currently serves individuals, businesses, and other Web hosts with domain registration services.
enom provides a quick search bar on their main landing page to support users keen to search custom domains. Users don't need to sign up as resellers to access domains and the process doesn't take long.
SSL security
Secure Socket Layer (SSL) security from enom promotes security of user accounts and prevents information loss or theft. Paid SSL certificates from enom help users secure their transmissions at all times from unauthorized access.
Linux OS Web hosting
Several Web hosts do not support systems running versions of Linux OS. enom offers Web hosting to Linux users, giving all subscribers support to run their websites.
Apart from offering to Linux OS users, enom also supports Web hosting packages for Windows users.
Auto backups
enom offers automatic backups with all its Web hosting plans. The add-on service promotes data safety for users. It also allows subscribers retrieve data from servers.
Main GoDaddy Features
GoDaddy has many useful features subscribers can benefit from across its hosting plans. Some of GoDaddy's major features are:
WordPress hosting
Dedicated servers
Free domain
Unlimited disk space
WordPress hosting
A WordPress hosting plan from GoDaddy allows users get their websites running with one of the world's most popular content management systems. GoDaddy supports a 1-click installer along with all WordPress hosting plans, regardless of your subscription to shared or dedicated servers.
Dedicated servers
GoDaddy reserves some of its resources for VIP users ready to pay more for Web hosting. Dedicated servers gives users access to greater resources, better performance, and efficient websites overall.
Subscribers to dedicated servers usually have the option to choose a data center they prefer. Choosing a Web host with servers close to your major visitor base is a smart idea, and GoDaddy offers the resources to countless users today.
Free domain
If you buy a 12-month GoDaddy plan, they'll throw in a domain and many other essential stuff at no extra cost. Some features available as bonuses include free CDN, single-click app install, page editor, SSH access, site migration, and much more.
The free domain and all these other stuff at no cost helps users get more value for an annual subscription.
Unlimited disk space
GoDaddy subscribers to mid-range plans and above typically have access to unlimited disk space and bandwidth. Most above-basic plans offers users every resource needed to expand their website's reach. Also, GoDaddy offers many of these services at industry-standard rates.
Users who get to purchase such plans also get free SSL certificates and other basic security features to protect data.
Winner:
enom doesn't come close to GoDaddy when you compare the main features of both platforms. GoDaddy currently offers its services to help users build and grow their presence online. ENom largely lacks vital features required to maximize the overall user experience and might not be a great option for many website designers and owners.
2. Site Performance (Speed & Uptime): enom vs GoDaddy
We need to look at the speed and uptime rates Web hosts like enom and GoDaddy provide. Comparing the speed and uptime of both platforms will show how well you should expect your site to perform after signing up to either Web host.
enom Speed & Uptime
enom records an overall speed under 1.5 seconds, meaning it isn't the fastest Web host out there. However, enom offers an industry-standard uptime rate of 99.95%. Such a decent uptime is enough to keep users' websites functioning without problems for long periods.
GoDaddy Speed & Uptime
GoDaddy has average speeds under 1 second, making it one of the fastest Web hosts available. All GoDaddy users also get an average 99.99% uptime rate to their websites, according to test results. GoDaddy also offers all subscribers a 5% hosting fee refund if service interruptions occur frequently in a month.
Winner:
GoDaddy wins this round again with its great speed and uptime rating and refund guarantee for potential poor service. enom doesn't stack up to GoDaddy when you compare their average speed and overall uptime rating closely.
3. Pricing & Plans: enom vs GoDaddy
| | | |
| --- | --- | --- |
| | enom | GoDaddy |
| Entry Level plan | $6 / month | $5.99 / month |
| Middle plan | $9.98 /month | $12.99 / month |
| Highest plan | $19.99 / month | $14.99 / month |
| Cloud Hosting | N/A | N/A |
| Dedicated Server | N/A | $109.99/month for DS-32 $149.99/month for DS-64 $259.99/month for DS-128 $339.99/month for DS-256 |
enom Prices & Plans
enom has three (3) hosting plans – Starter, Advanced, and Business. These plans have features like:
| | | | | |
| --- | --- | --- | --- | --- |
| | Bandwidth | Sites | Storage | Price |
| Starter | 200 GB | 50 | 20 GB | $6 / month |
| Advanced | 400 GB | 50 | 40 GB | $9.98 /month |
| Business | 1 TB | 50 | 100 GB | $19.99 / month |
GoDaddy Prices & Plans
GoDaddy offers four (4) hosting plans to users – Basic, Standard, Premium, and Ecommerce.
GoDaddy Basic (available at $5.99 per month) offers users features like:
An analytics dashboard,
12-month Microsoft 365 subscription,
Phone (business hours), email, and live chat support, etc.
GoDaddy Standard ($8.99 monthly) offers its users services like:
Everything in Basic,
Search engine optimization (SEO) support,
Standard website optimizer, etc.
GoDaddy Premium ($12.99 monthly) offers users the following:
All features in Basic and Standard plans,
E-mail marketing assistance,
Site scheduling, etc.
GoDaddy Ecommerce ($14.99 per month) provides:
All features in Basic, Standard, and Premium,
Payment software integration,
E-commerce support,
Marketplace building and integration, etc.
Standard, Premium, and Ecommerce plans typically come with better storage, bandwidth, and vital features than Basic.
Winner:
GoDaddy wins this round, as it offers more storage and bandwidth options to users for way less than enom. Some GoDaddy plans with unlimited storage, bandwidth, and unlimited site support cost $8 – $12. enom has no unlimited features and charges up to $19.99 monthly for its services.
GoDaddy also have more plans overall, with 20+ packages compared to enom's trio.
4. Customer Support: enom vs GoDaddy
Customer support options improve service quality and ensures users get value for money. GoDaddy and enom have several customer support options on offer. Let's see how these support options perform when we compare them side-by-side.
| | | |
| --- | --- | --- |
| Type of Support | enom | GoDaddy |
| 24/7 support | Yes | Yes |
| Phone Support | No | Yes (Business hours only) |
| Live to chat | Yes | Yes |
| Email Support | Yes | Yes |
| Ticket support | No | Yes |
| Forum Support | No | No |
| Video guides | No | Yes |
| Knowledgebase | No | No |
enom Customer Support
Customer support from enom is available by email and live chat. The company offers 24/7 support to users keen to resolve issues or ask questions about enom's products.
The company doesn't support forums and has no video guides. Users don't have a knowledgebase to draw vital information from too.
GoDaddy Customer Support
Support options from GoDaddy include phone, live chat, email, and ticket service. GoDaddy offers these features 24/7 (except phone chat).
Users also have access to how-to articles, blogs, and other support resources to get vital information about GoDaddy's products. GoDaddy users also have access to video guides for more details about everything GoDaddy has to offer.
GoDaddy doesn't offer the best customer service quality among Web hosts, but complements these lapses with many support options. Users can get information about various GoDaddy services from any channel they seek or call the direct support line (020 7084 1810) during office hours.
Winner:
GoDaddy wins this round as it offers more customer support options to users than enom. All GoDaddy subscribers have direct access to customer service agents and can leverage numerous resources from video guides and how-to articles.
enom doesn't have a phone customer support option and only responds to emails and live chat messages.
5. Ease of Use: enom vs GoDaddy
Web hosts must provide subscribers significant ease of use potential to improve their experience overall. Check out what enom vs GoDaddy provides users when you compare their simplicity.
enom Ease of Use
enom offers a simple interface designed to allow new users navigate its services with ease. The service also come with domain registration search bars to help users pick preferred names for their websites with ease.
GoDaddy Ease of Use
GoDaddy supports users with a simple interface designed to make navigation easy for first-timers and experienced subscribers. The service also provides significant customer service options to promote easier usage of all their products.
Users also have access to a drag-and-drop website builder, one-click installer, CMS hosting plans, and much more. These features focus on making the overall user experience as easy as possible.
Winner:
GoDaddy supports better ease of use with its features and support options available. All GoDaddy users can easily get access to a website builder or dedicated servers for hosting, but enom users can't. GoDaddy's beginner-friendly interface is another major plus to newbies and experienced website builders and owners.
6. Scalability: enom vs GoDaddy
Scalability is essential for website owners looking to grow their business over time. The right Web host should provide enough features to help their subscribers scale with ease.
We compared enom vs GoDaddy for scalability; check out how they both performed.
enom Scalability
enom offers users a total of three plans to help scale their website. These packages provide users with more storage and bandwidth at different prices. Users can easily get up to 1 TB of bandwidth along with 100 GB of storage from business plans.
Apart from the expansive features enom provides with its plans, this service offers support for domain name registrars and hosting companies. Web hosts looking to expand their services into domain registration usually outsource such needs to enom.
enom currently ranks high among the biggest firms responsible for domain name registrations worldwide with 15+ million users.
GoDaddy Scalability
GoDaddy has bundles designed to fit the needs of individuals, small businesses, and large companies. All of GoDaddy's 20+ plans focus on helping users scale their websites to accommodate more features and run smoothly with significant increases in traffic.
GoDaddy's basic plans typically offer lower storage and bandwidth, but expensive plans provide lots more.
Winner:
GoDaddy dominates enom in this round and offers some of the best scalability features available from Web hosts. With over 20 hosting plans from different bundles, users can conveniently scale their website to meet growing demand.
Plans available from GoDaddy support increased traffic and allows users get more security options on their account. These plans also provide tools to improve users' websites for various business needs.
7. Security: enom vs GoDaddy
Security is vital for all Web hosts, especially those keen to serve a large number of users simultaneously. Web hosts lacking the right security features run the risk of exposing their users to data theft, hacks, and other cyber-intrusions.
We need to compare the security features of enom vs GoDaddy to see which offers its users better protections.
| | | |
| --- | --- | --- |
| | enom | GoDaddy |
| Free SSL certificate | No | No |
| DDoS protection | Yes | Yes |
| CloudFlare | No | No |
| Daily backups | Yes | Yes |
| Malware scans | Yes | Yes |
| SiteLock Security | Yes | No |
| WAF (Web Application Firewall) | No | Yes |
| Security features | SiteLock, SSL certificates, Malware scans | Scheduled Site Cleanups Anti-malware scans Firewall protection Distributed Denial of Service (DDoS) Protection CDN Cage FS Malware removal Email privacy Cross-site injection/scripting prevention |
enom Security
enom provides SiteLock security and anti-malware scans with all its plans, but that's just about it. Users need to pay extra to get basic security stuff like SSL certificates and site cleanups.
enom isn't generally focused on security. The company thrives more as a domain name registrar than a security-focused Web hosting service.
GoDaddy Security
All GoDaddy Web hosting plans come with security features like spam protection, malware scanning, and DDoS protection. However, GoDaddy doesn't support free SSL certificates on its basic plans.
Users must purchase an SSL bundle or a high-grade plan to get this protection on their website. GoDaddy does will in the services it offers but doesn't offer advanced features like a Web firewall or two-factor authentication.
Winner:
GoDaddy wins the security debate against enom with ease. enom only offers SiteLock and a handful of other features, but GoDaddy provides much more.
GoDaddy supports its users with improved site cleanups with schedule support. The company also offers its subscribers anti-malware scans, SSL certificates, and other great features.
enom and GoDaddy don't have free SSL, but the latter offers this security feature for a lower price. Users keen on increased security from a Web host should consider what both platforms offer closely.
8. Server Location: enom vs GoDaddy
We need to look at the server location of a preferred Web host to be sure of its ability to deliver better load speeds and uptimes. That's why we compared the server location of enom vs GoDaddy to see what they offer.
enom Server Location
enom doesn't disclose the location of its servers. Repeated inquiries to enom support about their servers' location returns this message via live chat:
enom isn't the only Web host with a tight lid on the location of its servers. However, we don't know why Web hosts will choose to keep the location of their servers secret.
Even if we don't know where enom's servers are, our best guess is that they'll have a center in North America. enom offers its customer support options from Canada and has offices in Kirkland, Washington D.C., so it's not a wild guess.
GoDaddy Server Location
GoDaddy has its servers in Scottsdale, Mesa, and Phoenix (main server), all in Arizona. The company also hosts servers at other US locations in Virginia, Chicago, and Los Angeles.
GoDaddy users also have access to non-US based servers in Amsterdam and Singapore. Currently, GoDaddy runs servers in at least three (3) different continents and over six locations.
Winner:
enom doesn't publicize the location of its servers, so GoDaddy wins this round easily. GoDaddy currently has its servers in three continents, giving its users greater support to run their websites.
enom vs GoDaddy: Final Recommendations
Our comparison of eight (8) vital elements of enom vs GoDaddy brought several essential information to light. It won't be easy choosing between both platforms as they offer great services overall.
Check out our recommendations on both and make your choice based on the information provided.
When to Choose enom
enom could be an excellent Web host/domain registrar if you:
Own a hosting company
Some hosting companies don't offer domain name registration on their service list. enom has the resources to provide these companies with a limitless amount of domains to serve users needs.
Are a business or creative service firm
Creative service firms and other businesses usually seek professional email support for their clients. enom provides these companies support with professional emails and other essential services.
Are a reseller
Domain name resellers across the globe typically rely on enom to keep their businesses running. enom offers great pricing and white-label platforms resellers can use to grow their network and serve more customers.
Want professional SSL
enom doesn't offer free SSL, but its paid version is one of the best industry-wide. Site owners can comfortable prevent intrusions and data theft during server – browser transmission.
When to Choose GoDaddy
You should choose GoDaddy if you want:
Scalability
GoDaddy offers 20+ hosting plans in total with each package offering services businesses need to scale their website. The company provides ample support through its various plans to help websites of individuals and businesses grow to accommodate demand.
Better uptimes
GoDaddy is one of the fastest Web hosts with immense support to keep users accounts live and accessible. The company offers its users a 99.99% average uptime rate, meaning users should expect no more than 0.01% downtimes.
GoDaddy also throws in a partial refund of your hosting fee if your website experiences constant downtimes month-on-month.
A user-friendly interface
GoDaddy's simple user interface (UI) is a major reason many beginners and experienced site builders prefer it. The service offers straightforward instructions users can rely on to build and host their websites.
Budget domains and hosting
GoDaddy's domain registration is slightly cheaper than enom's. Even if GoDaddy has steep hosting rates compared to industry standards, it isn't the most expensive among Web hosts. Users can expect above-average Web hosting services from GoDaddy starting at $6 every month.
Bottom Line: enom vs GoDaddy
enom vs GoDaddy offer different services to users and provide superior support in various aspects of Web hosting. We compared both platforms closely, and it's obvious that GoDaddy does a better job overall.
GoDaddy has improved uptime ratings, significantly better customer support, and improved features. enom provides great services too but doesn't match GoDaddy's reach and various features.
GoDaddy is better to scale, get high-performing websites, ensure security, and for comprehensive service to visitors. enom lacks several vital features required to boost websites scaling potential and doesn't offer basic security for free.
However, enom has immense appeal among its customer base as the company serves 10+ million users worldwide. The company also offers advanced features unavailable from some competitors and is a preferred host for resellers.
Selecting between both Web hosts is not our decision, but yours. Check the features of each Web host closely and see if any of both aligns with your needs. You can only work with one at a time, so base your choice on facts to secure the best Web host for your website.
FAQs: enom vs GoDaddy
Does enom Have a Free Plan?
enom doesn't have a free plan and offers no money-back guarantee with their Web host bundles. Users who choose Starter, Advanced, and Business plans must pay upfront fees for services and expect no refunds if any problem arises.
How Much is GoDaddy Dedicated Hosting?
GoDaddy dedicated hosting plans cost subscribers between $109.99 and $339.99 every month. Most GoDaddy dedicated hosting plans come with increased storage and massive features users can leverage to benefit their website(s).
Does enom Have Unlimited Storage?
enom offers its users storage plans between 20 GB and 100 GB. Currently, the service has no plans with unlimited bandwidth or storage.
Does GoDaddy Have a Free Website Builder?
GoDaddy has a website builder, but it's not free of charge. The company's website builder is available as an $19.99 add-on and comes with vital features to design professional-looking sites.